Florence Squirrel Removal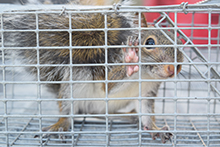 Squirrels in your attic or squirrels in your house is a common problem year-around in many South Carolina homes. Squirrels will easily turn the attics of homes and business into a shelter and nesting sites for their litters of young. Squirrels raise two litters of young each year, which means it is likely that your nuisance squirrel problem is multiple squirrels taking up residence in your home. As soon as juvenile squirrels begin developing teeth, they start chewing anything within proximity to the nesting site. Around about seven weeks of age is when the juveniles start to venture out of the nesting site. Squirrels are the cause of approximately 30,000 house fires each!
Squirrel Damage Florence
Squirrels are not only a pest, but also a nuisance in many ways. They may eat from your home gardens, raid bird feeders and chew holes to gain entry into your home or attics. Noises in your attics such as running or gnawing during the day are often a sign that you have a nuisance squirrel issue in your home. It is important to remember that running, squealing and gnawing sounds at night are typically indications of rats or raccoons present in your attic. Squirrels usually cause extensive damage to the insulation of your home and attic. Electrical wiring is also a target for gnawing and damage by these nuisance squirrels.
Squirrel Trapping Florence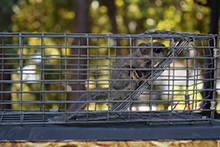 Getting rid of your nuisance squirrel issue followed by performing an exclusion, or making your attic, home, and building squirrel-proof is the best and most permanent solution to the problem. Our squirrel removal techniques all legal and prevent harm to the squirrels. A roof is a common place for squirrels to gain entry to attics and other structures. This is especially the case if tree limbs are hanging over the roofline. Removal of the these overhanging limbs is just one of the things that can be done to reduce a squirrel's chance of having access to your roofline.
If you think you may have a squirrel in your attic, squirrel in your walls, squirrels in your sheds or squirrels in your utility building you should immediately call our squirrel removal specialists. Our squirrel removal specialists at AAAC Wildlife Removal of South Carolina have the necessary training, licensing, and skills necessary in getting rid of your nuisance squirrels. We also have both the tools and skills needed to trap the squirrels and complete the necessary repairs and exclusion techniques used to keep squirrels out of your home or business.