Florence Raccoon Removal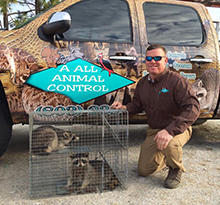 Raccoons are one of the most common nuisance wildlife that we are requested to remove across the state of South Carolina. Raccoons are impressively smart animals that do not have a hard time making themselves in your home or business.
Because it is rare to see them during the daytime, it is easy to underestimate the urban raccoon population. Male raccoons are especially territorial, occupying areas of about 3-20 sq. miles. Females typically concern themselves with a much smaller range of territory, being 1-6 sq. miles. It's common for raccoons to create a home in hollow trees, drain pipes, attics of homes and buildings, under decks or storage buildings, in brush piles, and in abandoned burrows.
Raccoon Damage Florence
Raccoons cause a large amount of damage to your South Carolina homes and businesses. In urban areas, raccoons tend to wreak havoc on attics and roofs of buildings, home gardens, fruit trees, lawns, get into garbage cans and trash containers. Raccoons may also attack your pets and/or steal their leftover food. It is possible that one or more raccoons will establish a communal toilet area in your attic, leading to the deposition of a large amount of scats.
Raccoon Disease Florence
Seeing as free roaming wildlife does not receive veterinary care, any wildlife may be carrying any number of diseases. Raccoons are known to be carriers of many diseases, such as rabies, canine distemper, encephalitis, histoplasmosis, trypanosomiasis, coccidiosis, toxoplasmosis, tularemia, tuberculosis, listeriosis, leptospirosis, roundworms, and mange. These nuisance wildlife animals are also infected with fleas, ticks, lice, and mites which are also known transmitters of many diseases. Children and pets are especially susceptible.
Raccoon Control Florence
In urban areas, where the raccoon population becomes so high that they are a serious problem, they must be removed by a raccoon removal and control specialist. In these areas, the best way of getting rid of the raccoons is trapping with baited cage traps. There are no federally registered chemicals that may be legally used to control raccoons. It is important that no one other than a trained removal professional attempt to trap or remove raccoons or other wildlife on their own. If you suspect you may have a raccoon in your attic, raccoon under your porch, raccoon under your shed or raccoon under your utility building, you should call AAAC Wildlife Removal of South Carolina's raccoon removal specialists.